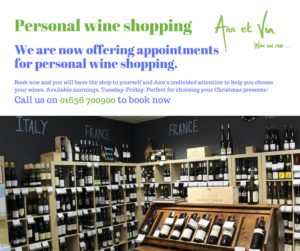 We have a TREAT for you! Ann is now offering Personal Wine Shopping slots in the mornings at Ann et Vin!
Book a Personal Wine Shopping appointment and you'll get the WHOLE shop to yourself and Ann's undivided attention to help you choose your favourite wines.
There is NO CHARGE for this amazing service.
Available mornings, Tuesday to Friday, just call Ann on 01636 700900 to book.
Perfect if you think you'll need some extra help and attention in choosing your wines, or if you are socially distancing yet still want to enjoy something better than supermarket plonk!
And we're starting our Christmas shopping now too, so this is ideal for present shopping (our Wine Elves can even wrap your gifts for you too – saving you another job!).
Personal Wine Shopping slots are limited, so please do call Ann to book yours – 01636 700900.